Web Developer
S.E.O Specialist
"I have a passion for developing high-quality user friendly websites which adhere to the highest of search engine optimization standards. My mission is to drive organic traffic to your website while using my knowledge of psychology to drive conversions. My goal is to provide you value and a great return on your investment. I look forward to working with you!"
My Values
Positive Thinking / Optimism
Culture breeds success. I'm a firm believer in working in a team first atmosphere. One in which we are selfless, and care about each other. Everyone has experienced a toxic environment, and you know that will not promote happiness, or ultimate success. Positive thinking has been scientifically proven to boost your immune system, reduce anxiety, and promote happiness which in turn promotes improved health and workplace performance.
Reliable / Dependable
When you can count on someone, it helps create a level of stability. With stability comes freedom to be creative.  "80% of success is showing up."-Woody Allen. I have not called in sick to work in 7+ years (I had Mononucleosis)! Some think I'm lucky to rarely get sick, but the truth is I take care of my body, and have methods to boost my immune system, like diet and exercise. I rarely take over the counter medicine either. Garlic, Ginger, Honey to keep you healthy and making money.
Clear Communication
I learned in my Interpersonal Speech Communication class that the best way to avoid conflict is to have clear communication. Even if it's bad news, if you communicate with an extra long, run-on sentence your point of view will be more clearly understood. Most conflicts are due to miscommunication. Through my career I've also learned about timely communication. It's important to schedule meetings and to avoid interrupting the workflow of your co-workers.
Honesty
Some people lie because it's easier than facing the consequences, and most animals will run away from the storm. Not the Buffalo. You must embrace your inner Buffalo and go through the storm head-on. By doing this you get through the storm more quickly, and gain true respect from your peers. If you really care about someone, you must be honest and sometimes tell them what they don't want to here.
Humble & Hungry
Trust the Process. Witnessing Buffalo Bills Coach Sean McDermott's process has been remarkable and inspiring. His "humble and hungry," approach helps to emphasize sharing the credit with the team, while keeping everyone level-headed, focused on self-improvement, while also having an emphasis on taking it one day at a time to become become the best version of yourself.
Handle Biz, Have Fun
H.B.H.F trademarked by former Buffalo Bills WR Stevie Johnson. This idea is simply about getting your business done first then you can have fun later.  "Don't get on the phone, don't go play video games, unless you did your work. Then after you do that, have peace of mind. That's peace. You can have as much fun as you want, and then you repeat."-SJ
Let's Get Personal
My Purpose
To provide value to others, and help other's achieve their own "perfect happy." My keys to happiness are growth in these areas;
Career (mastery of skills)
Physical (health)
Mental (brain learning)
Emotional (well-being)
Social (friends / family)
Faith (higher purpose / religion)
Financial (freedom)
Oldest Brother Mindset
Dual Monitors? More Like 8!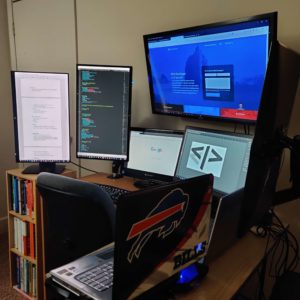 Buffalo Bills Inspired
I'm as big of a Bills fan as it gets, just look at the color scheme! … The one thing that defines me (and Bills fans), is that we are loyal. Here's the definition of the word loyal;  "Giving or showing firm and constant support or allegiance to a person or institution."-Oxford